TRS-80 PC-2 (and Sharp PC-1500) : assembly language manual
Series of articles by Bruce Elliot.
Published in "The TRS-80 microcomputer news magazine" in 1983-1984(*).
The information in this manual should apply to both the TRS-80 PC-2 and the Sharp PC-1500. Click on the image below to download a scanned version of this document in PDF format.
Contributed by : E. Mulder.
Download zipped PDF manual (6.75 MB)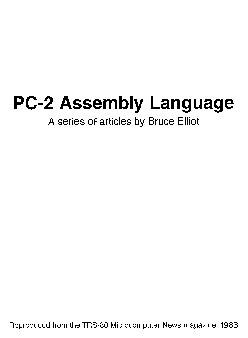 (*) This material is made available for documentation purpose only, since the TRS-80 PC-2 and the PC-1500 are now obsolete computers. This is not a commercial site. If you own a copyright on this document and do not want it to be available from this site, please inform me and I will remove it.

---