TRS-80 PC-2 (and Sharp PC-1500) : owner's manual
Radio Shack TRS-80 PC-2 owner's manual(*).
This manual covers basic operation of the computer. The information in this document should apply both to the TRS-80 PC-2 and the Sharp PC-1500. Click on the image below to download a scanned version of this document in PDF format.
Contributed by : Wade Fincher.
Download zipped PDF manual (2.86 MB)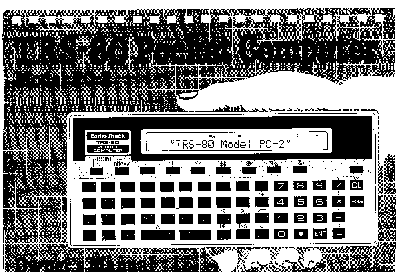 Table of contents
Description of the pocket computer : keyboard, display, rear panel.
Setting up the pocket computer : starting-up, battery installation, external power supply.
Using the pocket computer : keyboard, calculator, PC-2 BASIC.
Care and maintenance.
Specifications.
Appendix A. Language reference summary.
Appendix B. Error codes.
(*) This material is made available for documentation purpose only, since the PC-1500 is now an obsolete computer. This is not a commercial site. If you own a copyright on this program and do not want it to be available from this site, please inform me and I will remove it.
---